Joe Biden held one of the most embarrassing press conferences in presidential history.
After spending hours hiding in the White House after ISIS terrorists killed 12 service members Biden finally emerged.
And Joe Biden's reaction to a question from Fox News left jaws on the ground.
A frail and incoherent Joe Biden agreed to take unscripted questions from reporters following the end of his disastrous speech and press conference.
At first, Biden announced he would only call reporters from a list that he was instructed to take questions from.
When Biden ran through those questions he announced he would call on some other reporters.
Biden finally called on Fox News Channel's Peter Doocy – who is never on the list of preselected reporters who ask pre-approved questions.
Doocy asked Biden if Biden took responsibility for the 12 troops that died during his incompetently planned and executed withdrawal.
"Mr. President, there had not been a U.S. Service member killed in combat in Afghanistan since February of 2020. You set a deadline, you pulled troops out, you sent troops back in, and now 12 marines are dead," Doocy stated. "You said the buck stops with you. Do you bear any responsibility for the way that things have unfolded in the last two weeks?"
Biden responded that the blame for the events really rested with Donald Trump.
"I bear responsibility for fundamentally all that's happened of late, but here's the deal. You know, I wish you would one day say these things, you know as well as I do, that the former president made a deal with the Taliban that he would get all American forces out of Afghanistan by May 1. In return the commitment was made – and that was a year before. In return, he was given a commitment that the Taliban would continue to attack others but would not attack any American forces," Biden rambled.
An angry and disoriented Biden then tried to argue about Donald Trump's peace deal that called for troops to be out by May 1 as the real cause of the tragedy, but Doocy stood his ground.
At that point, a defeated Biden hung his head in shame.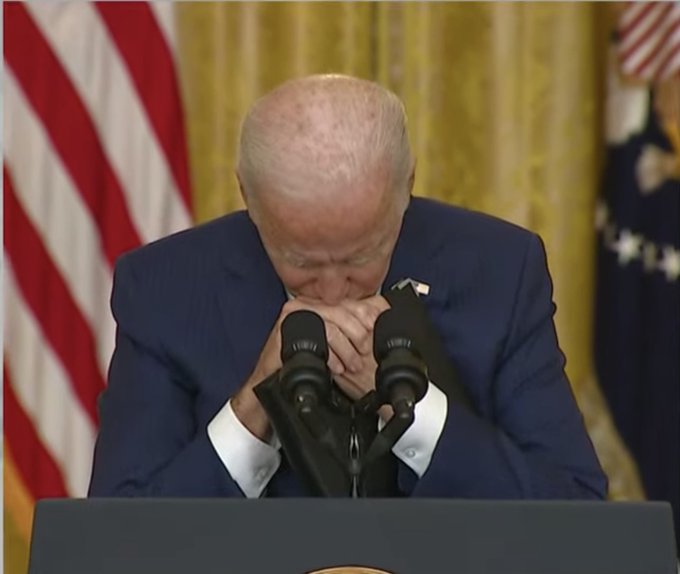 Nothing Joe Biden did or said in the wake of the deadliest day for American armed forces in Afghanistan since 2011 inspired any confidence that Biden is in charge or even knows what is going on.
Biden's first reaction being to blame Donald Trump only solidified the view in the minds of many that Biden is in over his head.
Renewed Right will keep you up-to-date on any new developments in this ongoing story.